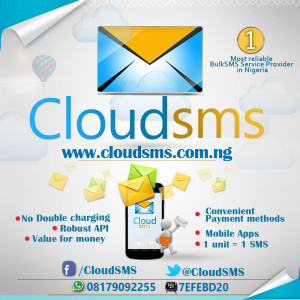 It has been observed that many of our BulkSMS customers do not know that we have several channels of paying for CloudSMS BULKSMS unit on our platform.This is why we are making it easy and convenient for you our valued customer to be able to pay without Stress for your BulkSMS account to be credited. Sequel to that, below are various means through which you can top-up (buy more units on) your CloudSMS bulkSMS Account.
if you are a new customer please register for your Free BulkSMS Account here
Please contact us on support@cloudsms.com.ng if you require further assistance/information
We love you.