CloudSMS is the most reliable BulkSMS Service provider in Nigeria,
No 1 in customer service!!
You deserve nothing but the best.Experience CloudSMS Today!!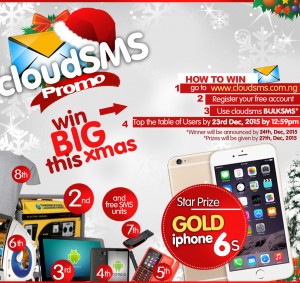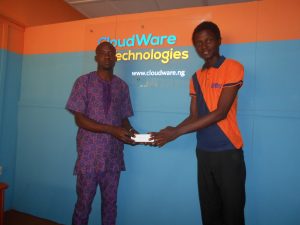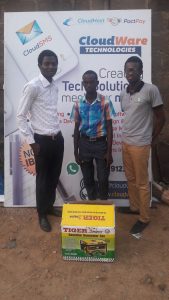 2 years ago we gave out an Ipad Tablet, last year we gave Latest iPhone 6s, Laptops, Android Phones, Generators, Irons, Tee shits and many more consolation prices, this year is going to be bigger and more exciting!!
The Highest User of CloudSMS BulkSMS between 10th Dec – 9th January 2017 Wins
This Promo is available to Purchases via Online Payment, Bank Deposits,Internet Banking transfer, ATM Machine, Payment, QuickTeller, Cash Payment to Our Office.
*Staff of CloudWare Technologies and CloudSMS cannot participates
To Be a part of this Promo?
* This applies to order made via Online Payment, Bank Deposits, Internet Banking transfer, ATM Machine Payment, QuickTeller, Cash Payment to Our Office
**When ever you purchase, this table is automatically updated with the Highest user
Contact us for further information
To send SMS effectively please check here and also read about NCC DND
We love you, feel free to share with your friends,