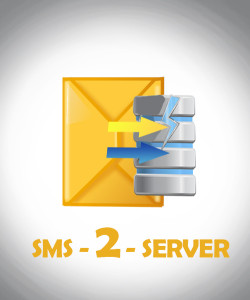 Why Pay exorbitant setup & monthly costs to virtually Host a Long Code number when this App provide you with the same feature and you have total control over your long code/virtual number setup?
SMS2Server Automatically forwards All incoming SMS to your Android Device to your server script for your further processing (Android SIM hosting).
FEATURES
– Automatic forwarding of All inbound SMS to your server script for processing
– Unlimited Incoming SMS Traffic (depending on your Android Device Memory)
– You can receive SMS from any country in the world to your server from SMS2Server
– Number becomes globally available for international your customers
– Easy, Instant setup
– Can be used in any country.
– Runs 24/7 as long as the phone is on
– consume very tiny phone resources
– Available Internationally
– Settings, for user to be able to change Server URL
– Message – Server log
– Dedicated only for you
– You have total control over your Long Code number setup
– Easy and fast deployment of the service, NO long waiting for short code approval.
Requirements:
— Any android phone with a SIM card inserted
— Ensure data access is enabled on the android phone to be used.
If the Application needs your urgent attention, a mail and SMS will be sent to the email & support number you provided during registration.
Application of SMS2Server
* Competitions and voting initiated by TV and radio shows
* Product feedback, campaigns and promotions (the number can be printed on a product package)
* Globally available number for international companies and events
* Reception of SMS for companies wishing to interact with consumers
* Reply path to online tools, software packages, etc.
* 2-way communication with service engineers, sales forces and suppliers
* Reception of SMS to be forwarded to computer or user account
* SMS-to-email applications
* SMS multi-party chat services
* Feedback SMS for mass mailings or promotional activities
* Easy Registrations for Web App in places with limited Internet access.
* 2-way SMS marketing campaigns
* Your customer can inquiry by SMS
* Keyword based SMS interaction
* SMS news letter subscriptions
* SMS Order confirmation
* Send onetime passwords, activation codes
* SMS surveys
* SMS promotions, SMS competitions
* television SMS voting
* SMS chat
* SMS-to-email
* User Authentication services
We also Have a Call2Server version that can send caller's number to your server for further processing, its called Call2server