Hi,
Do you Know that CloudSMS is Nigeria's Most Reliable BulkSMS Service Provider?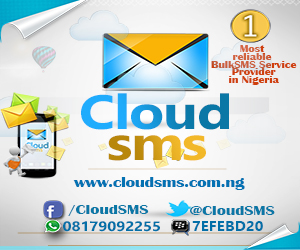 CloudSMS is Trusted by tens of Thousands of Nigerians and Africans, and a handful of International clients. Because of the Following
Reliable and Instant BulkSMS

1unit = 1 SMS to all gsm networks

Robust SMS API

Mobile Apps

No Double Charging


Convenient means of Payment.



Superb Customer Support.
CloudSMS is dubbed as the No 1 in Customer service in Nigeria.
CloudSMS is used for sending Instant Customized SMS to Numerous numbers at once.
To Begin using CloudSMS for your BulkSMS Campaigns, 
After Registration you can Top up your BulkSMS Account via any of the Below
If you would like to be a reseller/to own your own and run your own BulkSMS Website, simply send email toreseller@cloudsms.com.ng for instant details
Download our Free Android App

Customer Support
In other to serve you better, we have increased the number of our Customer support Channels, so you can just use whichever is convenient for you
Calling
08179092255 (EMTS)Etisalat
08052257405 (GLO)
08024664141 (Airtel)
08102902085 (MTN)
7EFEBD20 (BB PIN)
08179092255  (WhatsAPP)
+2348179092255 (International)
—