To all our valued users and prospective users we say thank you for your patronage and also thank you for being patience with us.
We feel obilge to inform you that Mobile Network Operators in Nigeria requires that All Application to Phone Messaging (BulkSMS) Should have their Sender IDs registered and Approved by the operators before they would allow delivery of SMS using that sender ID to their network subscriber, we went ahead and registered all Sender IDs that have been used on Our Platform and that of all our resellers since inception. This means before you send a message, you will need to pre-register new sender Ids that you have not used before to ensure delivery of your SMS across all Telecom pproviders.
Here are the steps to follow before you send out messages
Send the sender id you want to used for the message

two days(48 hours) before sending the messages so we can send it to our operators for registration. you can send it to our support email (support@cloudsms.com.ng) or phone number via sms/whastapp (08059664130).

Send the message to your phone using the sender id you sent to us has a text to confirm that it has been registered.

Make sure your number is not on DND and also numbers of the recipient you want to send the messages to,if numbers are on DND they won't receive it until they call there network providers to remove them from DO NOT DISTURB LISTS.

If your Sender ID has not been pre,registered and you need to send BULKSMS Urgently, You can send using any of the below Sender ID that we have Sent to the operators for approval and has been approved or you click on 100percent delivery (Delivers to DND + NON DND NUMBERSS) in the Route option showing  in the diagram below.
To ensure delivery of your messages please click here to check this list of banned words by Telecom operators in Nigeria, and avoid using those words in your message.
If all above is followed, you will not have any issues, and your messages will always deliver

Below are the list of general Sender IDs that you can use pending registration of your sender ID, choose the one that is most suitable to the message you intend to send.
ELECTION
CHURCH
MEETING
PROSPERITY
ABUNDANTLY
PROSPER
WONDERFUL
Wonderful
AWARD
Award
WIN
Win
Beauty
BEAUTY
TESTIMONY
WORSHIP
Worship
HALLELUYAH
EDUCATION
FORUM
HOTEL
ASSIGNMENT
CHURCH
WONDERFUL
ADVERTISE
CHURCH
TRAINING
CLASS
ADVERT
SEMINAR
Seminar
IMPORTANT
MOSQUE
CAC
REDEEM
MFM
INDUSTRY
PURCHASE
AWARD
HOSPITAL
CEREMONY
MFB
HOLIDAY
LESSON
EXAM
TRAVEL
SERVICE
MEMORIAL
BURIAL
ENGAGEMENT
AWARENESS
POLITICS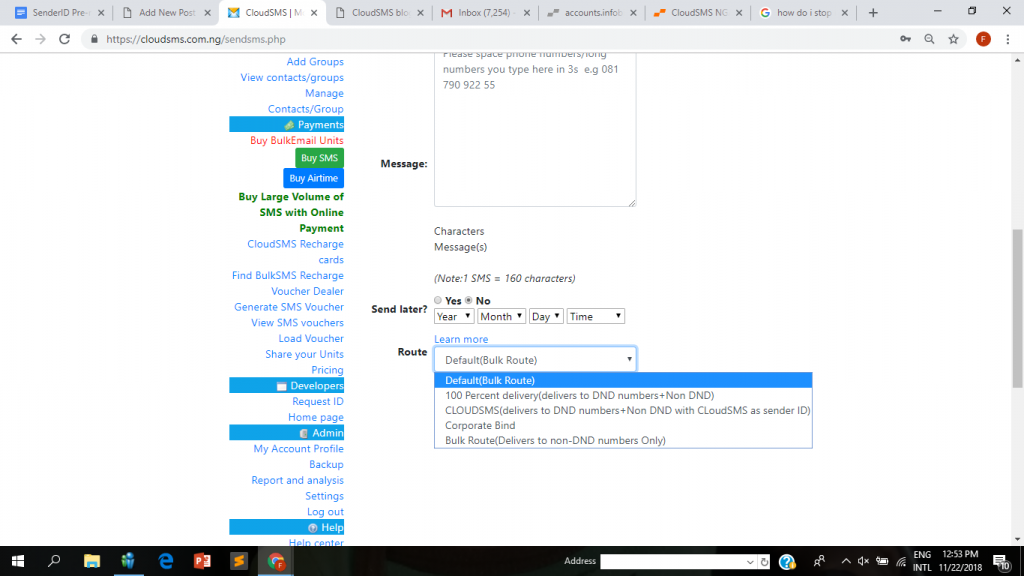 I hope this will make it easy for our customers with issues of delivery.
Thank you.