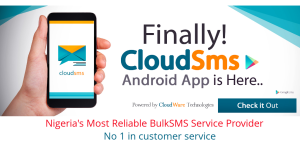 WOW! You can't possibly miss out on this.
Be the First to know and make sure it's heard from you first! There is a New, Classy and powerful CloudSMS Android App in town downloadable on Google Play Store. With this New CloudSMS Android App, you can do lots more than you could ever imagine, and improve your SMS and BulkSMS Sending experience.
CloudSMS is Nigeria's Most Reliable BulkSMS Service Provider, No 1 in Customer Service.
Its newly launched Mobile App is specifically tailored to aid your convenience with its special features, allowing you send Customized Single and Bulk SMS from the convenience of your mobile, easy to use and intuitive. What could be more exciting than this? Have you ever thought of how you could achieve all these just at a click from your mobile at your own comfort? Check out what's in Stock for you!
Features:
*Works with your current CloudSMS Account
*Free Bulk SMS Account if you are not a user yet
*Send Customized Single SMS
*Send Single and BulkSMS to Contacts on your Call Log and Phone Book
*Send Customized BulkSMS to your contact list
*Schedule Single and BulkSMS for a later time
*Instant Message to your saved Group on www.cloudsms.com.ng
*Load CloudSMS recharge vouchers bought from authorized dealers (See CloudSMS Website for closest dealer to your location)
*Buy SMS and Online Payment of your order
*Bank Details for payments available
*Persistent Sender ID Option
*Remember my signature feature
*Account Balance Checking
*Add BulkSMS Contact Groups
*Renaming and Deleting of Contact Groups
*Resend message previously sent.
And lots more features….
Download Free today and experience CloudSMS
Contact CloudSMS today for:
*BulkSMS Reseller Website
*BulkSMS
*ShortCode
*LongCode
*VoiceSMS
*Reliable BulkSMS Gateway API
Offered by CloudWare Technologies
Developer e-mail
support@cloudsms.com.ng